by Sourish Bhattacharyya
Unlike many people we know, Sonal Mansingh isn't coy about revealing her age. She'll happily tell you she's turning 60, yet she manages to pack a powerhouse into her athletic frame fine-tuned by a daily dose of yoga. Which explains why it's impossible to find her resting on her laurels.
She ended 2002 being feted with the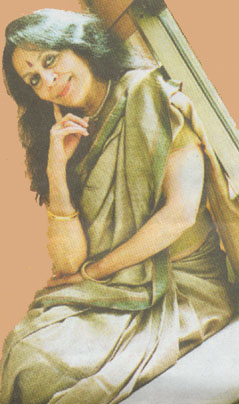 top award by Chennai's prestigious Music Academy-a recognition that doesn't come easily to an Odissi dancer. She performed to a capacity audience at HT Powai (Mumbai) and was surprised to find young people responding so enthusiastically to a classical dance recital that stretched for an hour. Unlike what many of us would like to believe, Generation Now has its heart in the right place. They rock to Shakira and Kylie Minogue with the vigour and the sense of fun with which they imbibe our classical culture.
Of course, Chennai and Powai already are distant memories for Sonal Mansingh,for she managed to get President A. P. J. Abdul Kalam to dance along with her at an Assamese village barely 20 km from the Myanmar border. That's the kind of effect she has on her friends. And even in the middle of this frenetic dancing routine, she doesn't stop being a trivia collector. "There's even a village called Margherita in that part of Assam. It was a token of gratitude from the British authorities for two Italian engineers who completed a rather difficult bridge," Mansingh said, her eye dancing with the joy of discovery. "And do you know Digboi owes its name to the constant shouts of 'dig boys, dig' from Scottish oil prospectors who came to explore the virgin oilfields." That has her in splits.
After an exacting routine, you'd expect a dancer to put up her feet and let her hair down, but Mansingh, who averages 6-8 outstation performances a month got into her dancing gear as soon as she landed in the city. Every year, she celebrates Republic Day with a dance performance on January 24 ("because most of my friends have to be at the President's At Home on January 26"). This year's no exception, but what makes it special is the theme Mansingh has chosen for her ballet scripted by the famous Hindi poet Ashok Chakradhar.
The ballet is about Lal Ded, or Lalleshwari, Kashmir's Shaivite poetess-saint born in the 16th century in the saffron-enriched Pampor and revered equally by the Pandits and the Muslims, who know her as Lalla Arifah celebrated by the legendary saint, Nooruddin. Mansingh, with help from Virendra Qazi, a Lal Ded scholar who works with the Steel Authority of India Limited, has rescued the life of the poetess-saint from her childhood spiritual experiences to her miserable marriage destroyed by a suspicious mother-in-law, to her emancipation (she even gave up wearing clothes) with the blessings of Siddha Srikanth.
Such a remarkable life, which uncannily mirrors that Mira, didn't deserve the obscurity it had been pushed into. In Kashmir's fractured society Lal Ded stands out like the eternal beacon of hope. By bringing the light of Lal Ded's wisdom to our city Mansingh proves that all is not lost in the long night of sectarian strife.
Courtesy: Hindustan Times, January 24, 2003