Mr. Prithivi Nath Razdan is one of the most knowledgeable but largely unrecognized intellectuals of Kashmir, now spending his days in Jammu as a migrant, I have had the good fortune of having been his student in C.M.S. School, Fatehkadal, Srinagar in the forties, Nearly half a century has passed. Almost every, week I have wondered how this shy intellectual with few means could fill himself with so much scholarship and also keep on radiating to others.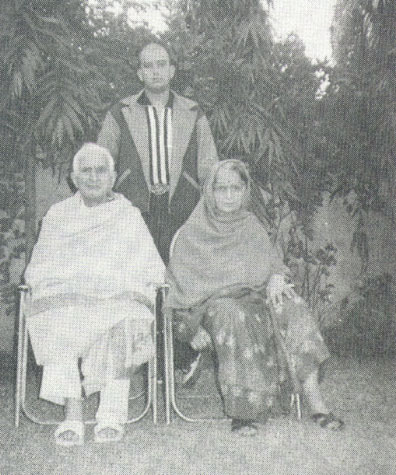 The Author with his wife and grandson Rahul Razdan
I remember Razdan Sahib as a thin, tall, extremely helpful, middle class man constantly given only to reading and writing. He taught us the sciences. He did it very well, but he also interested us in literature, world affairs, adventure and the secrets of the breathtaking mysteries and beauties of life. He wrote a drama in which he asked me to play a role. It was staged in the sister school in Sheikhbagh, then known as Haddow Memorial School, and drew a big audience. He helped me make a magic lantern and organised a big show of students and teachers to lecture on the health situation in Kashmir. I failed the first time but later on improved in technique such were his pursuits.
All his life Razdan Sahib has done great service for the people of Kashmir. When the C.M.S. Schools came to be in difficulties, he ran one almost by himself, went on writing books, started magazines. He enriched everyone by his dedication and knowledge.
He has now written a book on the sages and seers of Kashmir He has gone into the poetry of their lives and the verse of their godliness. Having read the typescript I know that there could not have been a better person than him to write on a subject so intricate and vast but I must not attempt a judgement. Nowhere near any of his scholarship, I will not comment on what he has written. It needs a person far richer in wisdom and knowledge to judge his work.
Kashmir will be very lucky if it continues to give birth to such sons. I will never miss the thought that our country should have honoured men like him far better than it has Razdan Sahib's search for knowledge, his dedication despite difficulties, his defiance of age and his unconcern for personal comfort are of the highest order. That is what has made him a gem of the purest ray serene now in the dark. unfathomable pockets of the Oceans of intellect.
A man like him is a shining light for all those who want to lie on the intellect. He is an inspiration for all of us.
New Delhi
June 7,1994
A. N. Dar
Formerly, Resident Editor,
The Indian Express,
Editor in Chief
The National Herald